By Raphael Shevelev on December 10, 2014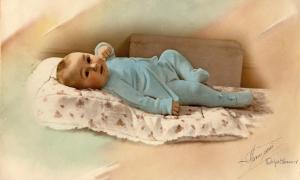 I wore my best blue suit to meet Harry Springett. In a place where even modest dwellings were named, my parents took me to "Fairhaven," 15 Flower Street, The Gardens, Cape Town. Mr. Springett was the first photographer I'd met. A little shy of my first birthday, Dad and Mom wanted their only child captured on film. Harry Springett obliged by placing me on a small mattress and making a photograph of me. It was black and white, of course, but he had mastered the art of painting in color using transparent oils. As a teenager I tried doing that with a photograph of a girl I admired, and discovered one of the difficulties: the painting was done under the light of a 40-watt incandescent bulb, and in the morning, seeing it in sunlight, it was ghastly. I never gave it to her.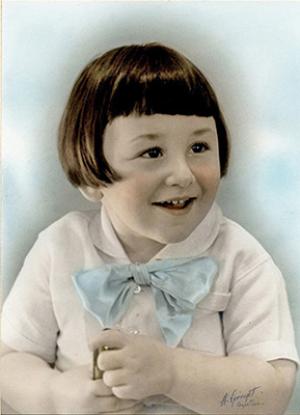 Two years later, my parents took me back to "Fairhaven" again, to be photographed just before going to Kramer's Barbershop for my first real haircut. I don't remember Mr. Springett's appearance, but I do remember being hoisted onto a tall box to sit for the next picture. My parents didn't ever own a camera, though I hasten to add that photography had been around for over a century. Though Mother was an excellent seamstress and could do elegant miracles with a treadle Singer sewing machine, using a camera would have struck her as being an impossibly complicated task. Though Father did eventually learn to drive a car (not well), photography would have been beyond his technological comfort zone. Other than the two Springett photographs, there are almost none of my young life, except for high school class pictures, of which I have only one from a crude copy machine, and my first driver's license picture.
So why am I writing this?
In December 1950 I calculated that at the end of the century, if I survived, I would be sixty-two. It seemed impossibly ancient. As it turned out, both my parents died before reaching sixty. As I write, in a few hours I shall be seventy-six. It has been a life of – to put it gently – great texture. I have experienced most unexpected changes in health, relationships, professions. But at this time of my life I have reached a place of growing satisfaction. I adore my wonderful wife and the happy home we've made. I love my children and grandchildren. I'm glad to have become an American. Being an only child, the immigrant son of the immigrant parents I left behind, I have somehow been able to acquire remarkable "siblings," dear brothers and sisters who mean the world to me.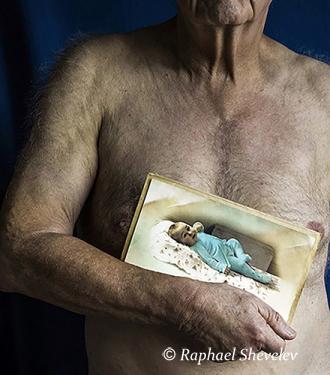 December 10 is a fine date on which to celebrate a birthday. It is the day when, in Stockholm and Oslo, Nobel Prizes are awarded. This year it is also the sixty-sixth anniversary of the Universal Declaration of Human Rights, in which, incidentally, my father-in-law had a role.
A quiet sense of celebration will permeate this coming week. December 17th will mark the fiftieth anniversary of my departure from South Africa. It is also the date on which, in 1974, I became a citizen.
I do not believe it is a delusion that the years have taught me a lot, and I'm grateful for all the education, formal and informal.
I've learned to love, to write, and to produce art. At last, the man and the infant feel at home and at peace with each other.
_________________________________________________________
© Raphael Shevelev. All Rights Reserved. Permission to reprint is granted provided the article, copyright and byline are printed intact, with all links visible and made live if distributed in electronic form.
Raphael Shevelev is a California based fine art photographer, digital artist and writer on photography and the creative process. He is known for the wide and experimental range of his art, and an aesthetic that emphasizes strong design, metaphor and story. His photographic images can be seen and purchased at www.raphaelshevelev.com/galleries