By Raphael Shevelev on November 11, 2014
My wife nudged me awake and said "I have a pain in my belly." "Not surprising," I said, "given all the boerewors (farmer's sausage) we ate at the neighbor's braaivleis (barbecue) last night. Would you like Alka-Seltzer?" She said "I don't think that's the reason. I think the baby is coming!" Well, that certainly changed the day. She kept a small suitcase of personal items under the bed. It came along with us to the Marifont Nursing Home, a Catholic maternity hospital just two blocks away. I wanted to be present, but the sisters blocked the door to the labor room, and I was left to stand outside the front of the hospital awaiting our physician's arrival.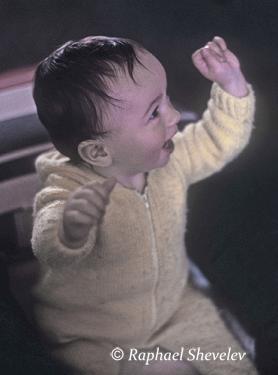 The doctor's little Austin came tearing onto the parking lot and I think he jumped out before the car was at a complete stop. Running past me, he shouted "She's four-fifths dilated!" I had no idea whether to be thrilled or concerned. Time went by. It must have been around 11 a.m. on November 11, 1963, when he emerged and said "You'd better start collecting a dowry!" I took that to mean a daughter had arrived. It was not until years later that I developed a fierce opposition to the idea of dowry, and not out of parsimony.
The day after Judy's birth, a very large bouquet of roses, six dozen reds, arrived at the Marifont with a gold-engraved card, "From the Mayor and Mayoress of Pretoria." The Mayor, Prof. Piet van der Walt, was an academic colleague who occupied the office adjacent to mine. We had an odd, but oddly affecting, relationship. Our politics and social views were about as oppositional as they could be. He was a staunch nationalist, supporter of the apartheid regime. And yet, there was an affectionate mutual respect. He had been born to a really poor family, became a barber, and eventually acquired the education that culminated with his doctorate in criminology.
Our friendship really began on the day when there had been a vote of censure on South Africa's racial policies in the U.N. General Assembly. Piet came into my office, slammed the morning newspaper on my desk and asked me to explain why Israel had voted against South Africa. I said "Piet, I am a South African citizen, and though Jewish, not in any way responsible for Israel's vote, though I agree with it. If you want to write a protest letter to the Israeli Foreign Minister, feel free to do so. And, by the way, your name is derived from your Dutch ancestry. How would you feel if I asked you to explain the similar vote by the Ambassador of the Netherlands?"
The bouquet of roses for Judy's birth was a conciliation gesture.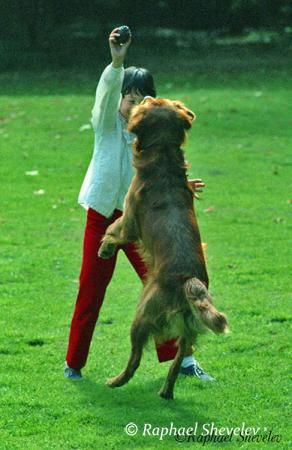 Judy was thirteen months old when we arrived in the U.S. She grew up to have a powerful humanitarian voice, become a very good student at the University of California, Davis (in my former department) and Columbia University, New York, and perhaps above all, a passionate lover of dogs.
In her eighth year, Judy accompanied me on a trip from the West Coast to Europe, South Africa and Israel before we returned home. She was a wonderful companion with a great surprise awaiting me. In Cape Town, where we hosted a formal dinner for family and friends, Judy, in her floor length gown, was asked if she would like to live in South Africa. With the demeanor of a kindly teacher addressing a less-than-gifted student, she fluently and emphatically rejected the idea of living in a society that not only tolerates, but promotes racism. Our hotel was within sight of Robben Island where, at that moment, Nelson Mandela was imprisoned. Later that evening, as we were about to retire, I answered a soft knock at the door. Two of the "Cape Coloured" staff, waiters at our dinner, surreptitiously asked to meet the white child who had so spoken out, and her father.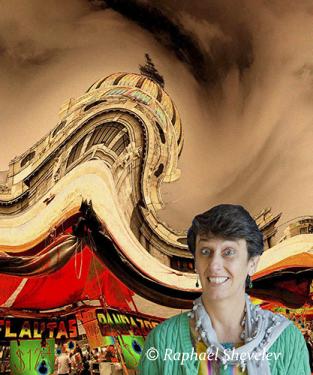 Many years later, Mayor Piet won a U.S. Leadership Exchange Grant, and invited me to lunch with him in San Francisco. He wanted to tell me that his politics had been wrong, and that he could envision a new democratic South Africa. I was so glad to hear that.
Judy, a student of Latin America, has lived in Mexico for many years. After years as an administrator of an American college extension in Mexico, she has reverted to her first love, establishing a school for the care and training of dogs (and by necessity their people). She turned fifty-one this week. I'm amazed at the passage of time and the woman she has become: courageous, gracious and optimistic. Healing from a unilateral mastectomy, she still voices her concern for others. A lifelong giver, she is learning that, in her own words, "to accept from others with grace is no small task." 
_________________________________________________________
© Raphael Shevelev. All Rights Reserved. Permission to reprint is granted provided the article, copyright and byline are printed intact, with all links visible and made live if distributed in electronic form. 
Raphael Shevelev is a California based fine art photographer, digital artist and writer on photography and the creative process. He is known for the wide and experimental range of his art, and an aesthetic that emphasizes strong design, metaphor and story. His photographic images can be seen and purchased at www.raphaelshevelev.com/galleries