By Raphael Shevelev on April 29, 2014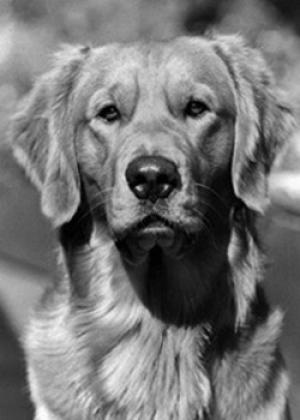 We talked with each other for twelve years. To be honest, I did most of the talking, he did most of the listening. I knew he was actively engaged because he would cock his head slightly, just so, and look at me unblinkingly with his warm, beautiful brown eyes. We started at a conversational run, no baby talk. From the beginning it was all about politics, international relations, war, peace and the logistics of nutrition. The latter, I admit, was more to his liking, and I never managed to discover whether he was indeed a Keynesian, as I am. Now, in hindsight, I think he was secretly Friedmanesque, but wanted to keep the peace between us.
A true democrat with both upper and lower case D/ds, he socialized with everyone, irrespective of race, creed, breed or nationality. Because of that he mastered many languages, and sometimes I would see him stand on and closely study Le Monde and the Frankfurter Allegemeine Zeitung, as well as the San Francisco Chronicle. A favorite literary pastime was listening raptly to my readings out loud of John McPhee's essays in The New Yorker. This was no great surprise. He had earned his CD (Companion Dog) and CDX (Companion Dog Excellent) degrees cum laude, and won the Dog World Award for Canine Excellence. They didn't know the half of it.
We liked each other's company a lot, and did many things together: walks in the woods, running on the beach, cuddling together for warmth on cold days, sometimes falling asleep on the living room rug. We'd stop by at Baskin-Robbins, I for blueberry cheesecake in a cone, he for vanilla in a cup. He refused the plastic spoon.
He was quite fashion conscious. When I changed from my city shoes to hiking boots, he would demonstrate immense pleasure. If I also reached for the case that held my shotgun, he would ululate his ecstasy with as great a precision of pitch and brio as the soprano section of the Contra Costa Chorale.
Though usually fearless, the onset of thunderstorms had him racing to my bed, scrambling under the covers, trembling until my embraces and caresses calmed him, and we both fell asleep. We even took turns in saving each other from serious threat. Using a silent hand signal, I once stopped him from running toward me across a park road just as a maintenance vehicle was approaching. He even dropped his favorite toy, a pine cone, and just lay there waiting for the "come" signal, an inward sweep of my extended right arm. On a very foggy, lonely night at the San Francisco Marina, I just barely saw a figure approaching us, perhaps someone with ill intent. On my almost inaudible whisper, "speak," he growled and barked so viciously that the figure disappeared into the mist. Then he turned to me, anxious to receive the customary praise.
I don't remember what our last conversation was about, but I knew the end was near for him. Petting, holding, feeling that warm tongue, were the last gestures. This portrait of Goldlegend's Midas Touch – Midas – remains on the eastern wall of my study decades after his death. I know that "man's best friend" is a cliché, but every day I'm reminded of my once very best friend, so grateful for those twelve years.
In my teens, I accompanied my parents on three ocean cruises. On the last, aboard the beautiful Lloyd-Triestino liner Africa, I shared my cabin with a taciturn Englishman who occupied many of his hours reading books about dogs. I found that deeply eccentric, until I acquired my own library on dog breeds and canine psychology. For a time I had a lively correspondence with Austrian ethologist Konrad Lorenz, author of Man Meets Dog.
My daughters Judy and Ruth became goldenretrieveraholics years ago, and still seem to be accommodating their addiction. Much more recently, my younger daughter presented me with a very fine granddog, Lily. Lily is exceptionally beautiful, though I think she may be quite fickle. When here, she and I adore each other, and kiss frequently. It finally dawned on me that, when not here, she may well be indulging in similar intimacies with others. She's very intelligent, and I fancy that, late into the night, when her human siblings have gone to sleep, Lily is studying The Economist's review of Thomas Piketty's Capital. We'll get to discuss it during her next visit.
I shall always miss Midas, but Lily's attentions are very consoling.
_________________________________________________________
© Raphael Shevelev. All Rights Reserved. Permission to reprint is granted provided the article, copyright and byline are printed intact, with all links visible and made live if distributed in electronic form.
Raphael Shevelev is a California based fine art photographer, digital artist and writer on photography and the creative process. He is known for the wide and experimental range of his art, and an aesthetic that emphasizes strong design, metaphor and story. His photographic images can be seen and purchased at www.raphaelshevelev.com/galleries.